BLACKOUT CURTAINS? ALL ABOUT THE LIGHT-TIGHT FABRIC
When it comes to the comfort of the home, curtains play an essential role. This is an excellent option for decor; curtains perform their primary function – to shield from unwanted light in the apartment. Today we will deal with an exciting variant of curtains – blackout.
What is it? These are curtains made of a particular fabric that almost 100% protects your home from light. This type of curtain was created in Finland, as white nights are very common there. They helped me fall asleep by creating complete darkness, even if there was daylight outside the window.
It is worth noting the quality of blackout curtains. They are solid and dense, so they quickly pass all the tests for durability. They are resistant to fire as well as practical to care for.
What is the fabric of blackout curtains?
Polyester. It is one of the most durable fabrics in the world. In addition to the fact that it does not crumple, resistant to dirt and fading, this fabric is soft to the touch.
To prevent the fabric from burning, it is treated with a special compound containing burning or woven with incombustible thread. It has no specific smell so these curtains can be used in the apartment.
And the last fabric option is blackout straight. It is designed for outdoor use. This material is treated with a unique protective composition to increase its durability.
But what to do if the waterproof curtains do get dirty? We have some care tips!
The two-layer fabric should be washed by hand, and a three-layer weave is allowed to pass in a washing machine on a delicate mode with a minimum number of revolutions (maximum 400).
Also, washing should be at a temperature not exceeding 40 ° C, and detergents can be used only for those not containing aggressive chlorine substances.
Do not think this type of curtain is ugly and devoid of aesthetics! There are many colors and prints, so everyone will find their ideal option.
But how can you apply blackout in a house? Now let's take the different types of rooms as an example.
Let's start with the bedroom. Here, blackout is a lifesaver for those whose home windows face the dawn, and the sun wakes them up early in the morning. Choose light-tight curtains whose color matches the overall design of the room. You can see examples in the projects of Vitkovskaya Design Studio.
Blackout can also be used in the children's room. This would be a great solution for a child, especially if he is small and needs sleep during the day. Especially since these blinds can be with different designs and your baby's favorite characters!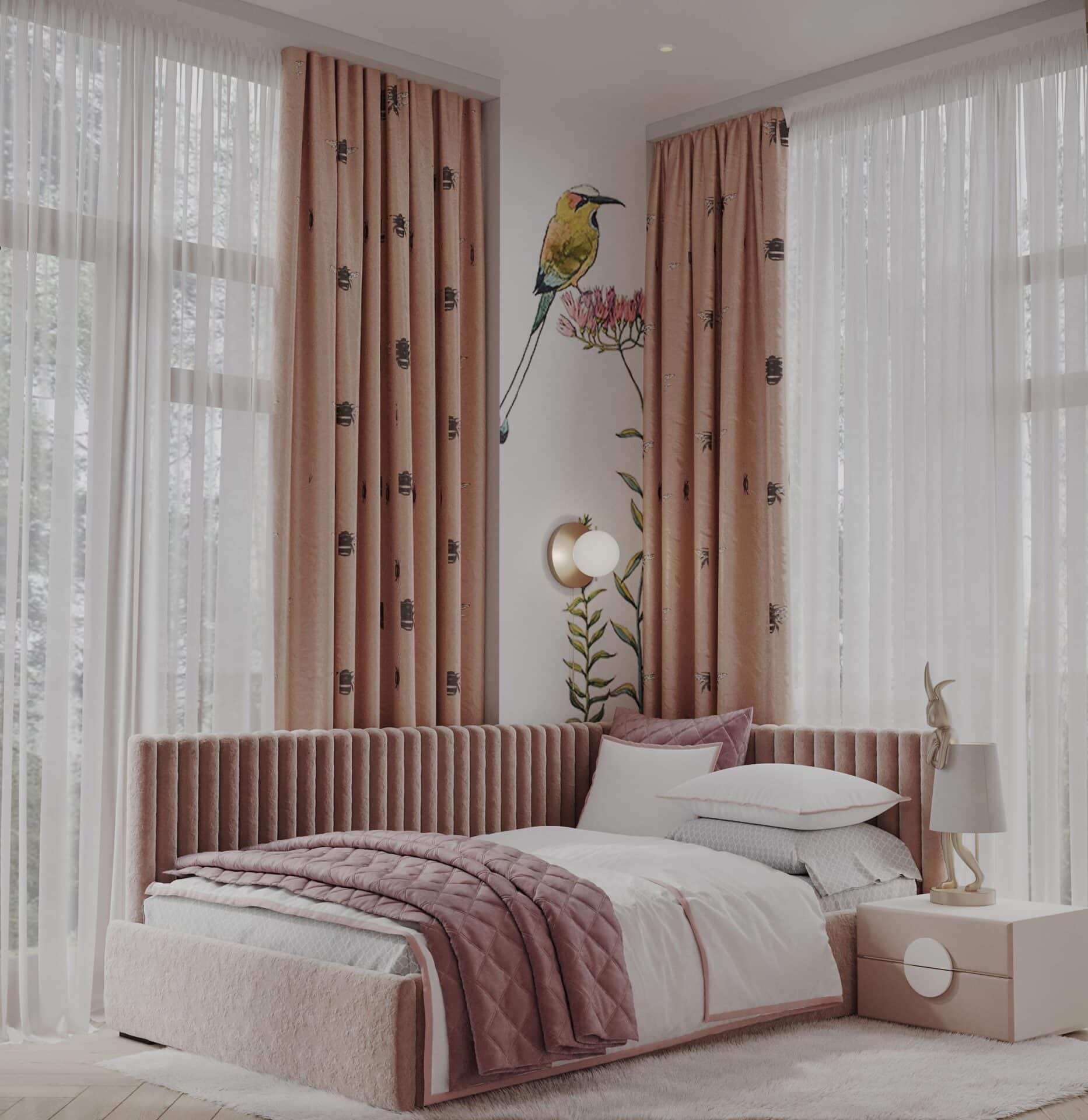 There is one great idea for using blackout curtains at home. If you want to create a movie theater effect, blackout curtains are the best option. Even in very sunny weather, you can watch movies with family or friends and not worry about unnecessary light.
The fabric "blackout" – has a lot of options. For example, roller blinds, are suitable for all windows, in addition, they are easy to use. Another option is Roman blinds with a controlled mechanism! It saves a lot of time and effort because with the help of special devices can open or close the curtains at any time. This is especially important when the house has high ceilings and the fabric "blackout," as we remember, is quite heavy.